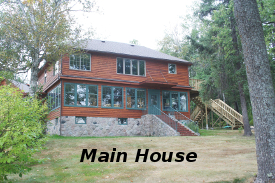 Original summer estate home. Built 1918, Remodeled 1990, 2006-2010.
Close to lake, Boathouse and docking.

Main Level has huge kitchen w/ dishwasher and double stove/oven
One full bedroom w/ queen bed and private full bath/ shower and whirlpool tub
Huge living room / meeting/ get together room with window walls overlooking the lake

Main House Upper Level has 3 bedrooms with a full and two singles in each of two bedrooms and 5 singles in bedroom 3.
Two baths, full size kitchen with dishwasher Large dining/ Living room. 2 EZ beds in Living Room. Deck w/ gas grill and private entrance.
Great views of the lake. Ample Privacy.
Peak Minimum 5 Nights
Peak Season Rate: $480 per night, $2400.00 per week based on 8 people.
Additional persons are $20 / night or
$100.00 / week
Off Peak Minimum 4 Persons 3 Nights
Off Peak Rate: $50 per night per person
You can rent the Upper Level or Both Levels of this House.
Check Availability Online
1-800-474-5322